Fiddling, Appearances, & Recordings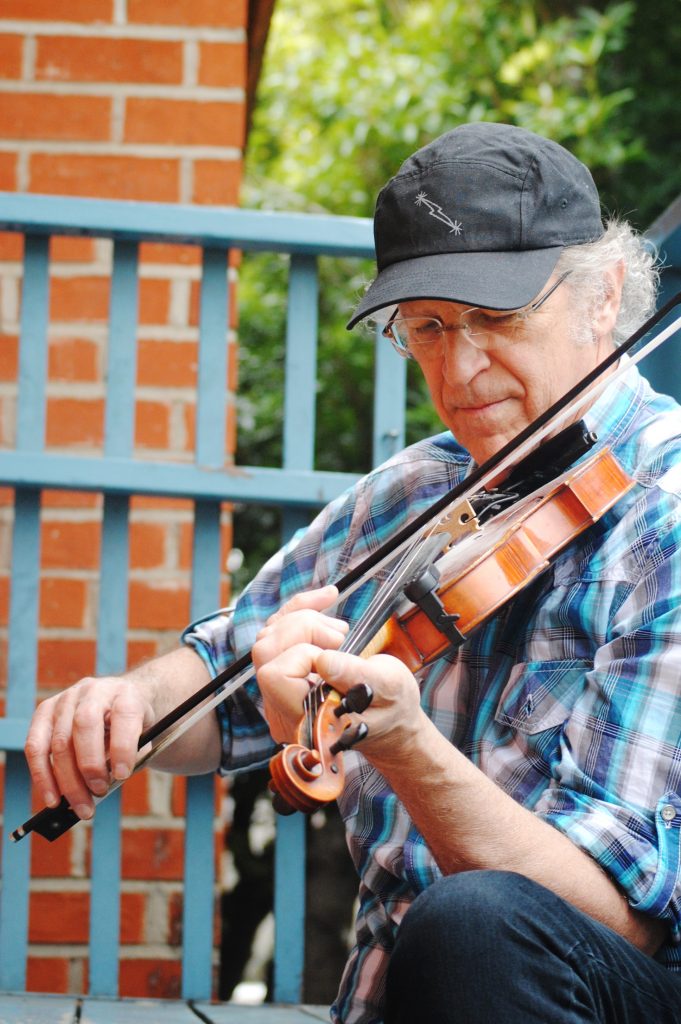 Designated a "Master Fiddler" in 1983 by the National Endowment for the Arts, Rodney Miller is widely considered to be the foremost exponent of New England style fiddling, a uniquely American blend of French Canadian and Celtic influences. Over the past 35 years, he has toured the U.S., British Isles, Australia and Denmark, performed and taught at hundreds of music and dance festivals, and recorded numerous fiddle albums.
Working with Rodney is like having an array of colors and textures at your fingertips (well, at *his* fiddling fingertips).

Lisa Greenleaf, master dance caller
Rodney's tunes have been widely played and recorded.
For more, check out the tunebook: 270 original fiddle tunes, composed over four decades of music-making.
Rodney's playing and numerous albums over the past 40 years have had a defining impact on New England fiddle music. From the New England Chestnuts albums, Airplang, Airdance, and many more, Rodney's playing has showcased tradition and innovation in equal measure.
Rodney's most recent recording Ticket to Nowhere (2019) is album number two from world-renowned band Stringrays. He is also a member of the Rhythm Raptors and the Backwater Boys (based in CA).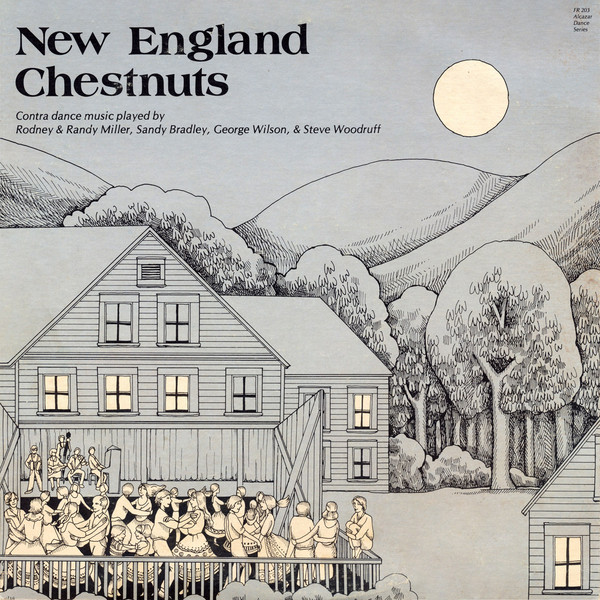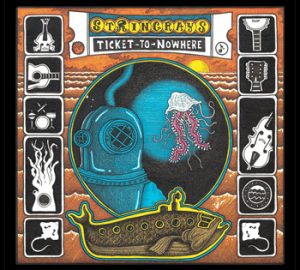 Rodney's tunes have been at the forefront of contra dance music.

Susan Songer, co-publisher of the Portland Collection
Appearances and Appointments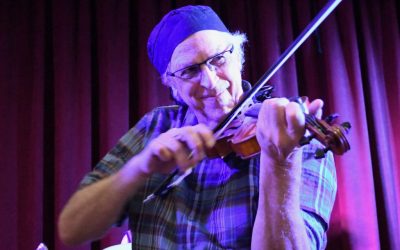 Rodney Miller is one of those rare individuals who embraces the entire cosmology of making music on the fiddle.

Lynn Martin Graton, Folklorist
In 1999, Rodney represented the state of New Hampshire, playing traditional fiddle music at the Smithsonian Folklife Festival in Washington, D.C. He has also appeared on Garrison Keillor's National Public Radio show "A Prairie Home Companion," performed live with the Twyla Tharp Modern Dance Company, performed at the Lincoln Center in New York, and was recorded on the album Songs and Sounds of the Sea for the National Geographic Society.
In March 2014, Rodney Miller was pleased to announce his two-year appointment by then NH Gov. Hassan and the Executive Council as the Artist Laureate of NH.
Ticket to Nowhere
2019
Featuring the "supergroup" Stringrays 5-piece band, with Sam Bartlett, Max Newman, Stuart Kenney, and Mark Hellenberg
Track list (and have a listen)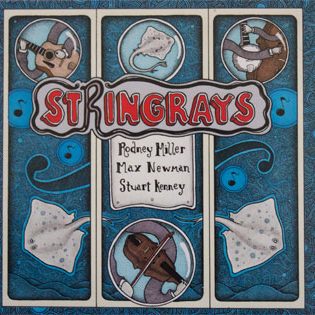 Stringrays
2014
Premiere recording from the Stringrays, full of trio interplay and expansive, fun fiddling.
Track list (and have a listen)

Spyglass
2007
The waltzes here are beautiful, poignant, brooding, cheerful and vivacious in turns. There is something about a waltz that is simply irresistible.
Track list
Mary Ann Blades
Spyglass
Waltz at Bougival
Valentine's in Nantes
Valse des Espoirs Fanes
La Trifluvienne
Road to Loch Tay
Soelvi's Song / Serpentine
Brimstone Corner/ Gillian's Waltz
Lady of the Lake / Hannah Towle
Lament for the Country House Dance
Home to the Valley
Journey to the Point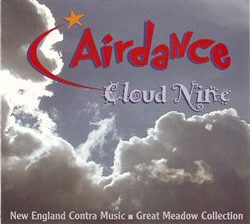 Airdance ~ Cloud Nine
2006
The third in the Airdance series, is listening and dance nirvana! A great CD to enjoy the complexity and spontaneity of this music.
Track list
Cloud Nine / Broken Heart / Cloud Nine
MacArthur Road / Gravel Walk / Shirley's Reel
Brimstone Corner Waltz
Cape Breton Jig / Gallagher's March / Jigermyster
Muddy Roads / Lexi McKaskill
Arigana Highway
Up Downy / Tongadale / Johnny Murray of Lochee
Cleveland Park / St. Patrice / Balls to Hall
Chance Creek Waltz
Bubble Pop / Hangman's Reel
Dot McKinnon / Sheldon MacNeil / Union Street Session
Rogue Wave Waltz
Hull's Reel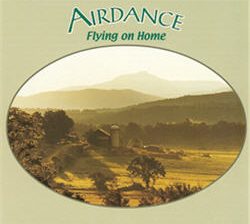 Airdance ~ Flying on Home
2003
Acclaimed as a masterpiece, this second album from Airdance features the playing of Rodney Miller, David Surette, Mary Cay Brass, Stuart Kenney, Sam Zucchini, and Marko Packard.
Track list
Tamlin / Devil In The Strawstack / Farewell To Tchernobyl
October / Road To Lisdoonvarna
Green Isle
Killavil Fancy / Hunter's Purse / Concertina / Providence / Musical Priest / Highlanders Farewell / Peter Street
Sandpoint
Flatworld
Ontario Swing / Bowin' The Strings
Belle Newcastle / Scruff Neck
Bobby Gardiner's Jig / Butlers Of Glen Ave.
Month Of November
Old Woolworth's / Johnny Don't Get Drunk
Napkin Tune / Flying Home To Shelley
Cup Of Tea / Holy Land / Wing Commander Donald MacKenzie
Elsie's Farewell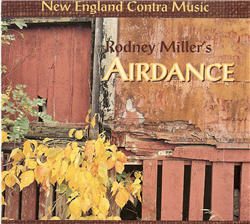 Airdance
2000
In the debut from Airdance, Celtic, traditional and jazz tunes flower on strong contradance roots, reflecting the continuing vitality and vibrancy of the New England contradance scene.
Track list
Gypsy Stomp / In Walked Bud
Ronde Des Voyageurs / Reel De Montebello / Hommage À Edmond Parizeau
Rambling Pitchfork / Four Courts / Salvation
Kilcommon / The Volunteer
All That You Ask Me
Morning Star / Paddy Fahey's / Alex Menzie's
Fred Bartell / Jigjazz
Da Trowy Burn / Da Crofter's Wife / Da Fisher's Foy / Da Bonxie
Behind The Haystack / Darla's Jig / Myra's Jig
Pigeon On The Gate / Racine Le Beau / Punter's Graveyard
Förväntan / Elaine's Hambo
Patty's Journey Home / Ice On The Water
Heather McCarthy / Lament For The Tobacco Valley / Road To Atlanta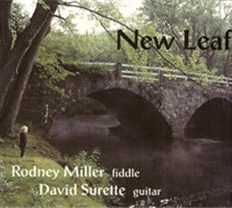 New Leaf
2000
This duo recording showcases the musicianship and sensitivity of Rodney Miller and David Surette, leading interpreters of traditional and modern New England contra melodies.
Track list
Arthur Seat Hornpipe / Eugene Stratton Hornpipe / Madame Neruda Hornpipe
Auld Snatwell
Princess Reel / Pacific Slope / Marcel Martin
Flowin' Water
Red Sunset Waltz
Shadows On The Lawn / Cunla / The Brae Reel
Statue Clog / Nightingale Clog / Great Western Clog / Lady Templeton's Clog
Poor Old Woman / Ned Kendall's Hornpipe / Levi Beaulieu
Italian Gigues – Monferrine
Da Wedding March From Unst / Da Auld Foula Reel
Caber Fey / Island Ferry / Wild Irish Reel
Wayne Merrill's Jig / Courtesan's Jig
Frisco Waltz
Evit Gabriel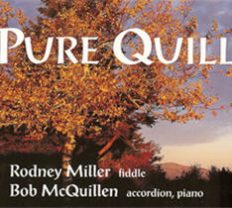 Pure Quill
2000
The title of this CD is an old New England expression meaning "the genuine article." Here you have it with Rodney Miller teamed with Bob McQuillen, the legendary, National Heritage Award winning piano player who was 77 years old when this was recorded.
Track list
McQuillen's Squeezebox
South Wind / My Bonny Lad
Quindaro / Dominion / Deerfoot / President Grant's
Naughty Noochie / Old Rocking Chair / Jimmy's Favorite
For Ireland, I'll Not Tell Her Name / Farewell To The Creeks
I Don't Love Nobody / Little Old Log Cabin In The Lane / Honey Harbor Two Step
The Huskin' Bee
Jamie Allen / West Wind
Lowlands Of Holland / Coilsfield House
The Gem Varsoviana
Strop The Razor / Skiver The Quilt / Down The Road / Grey Buck
Flowers Of Edinburgh / Old French / Willet's Hornpipe / Mountain Ranger
Elvira's Waltz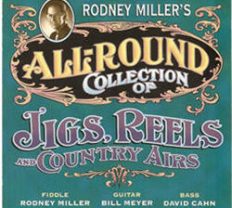 All-Round Collection of Jigs, Reels, and Country Airs
1997
A sublime mix of traditional and contemporary tunes featuring Rodney on fiddle, Bill Meyer on arch-top electric guitar, David Cahn on electric bass.
Track list
Devil's Dream
Chief O'Neills Favorite / Paddy Ryan's Dream / Burying Poteen
Roddy McCorley
Lament For Big Dougal
Waltz For Jane
Reel A Ti Jean / Johnny Morgan
Trip To Athlone / Bells Of Dover
Modern Times / Wizard's Walk
Doc Harris' Hornpipe
Sandie Ower The Sea
Fiesta Waltz
Mouth Of The Tobique / Jacques Cartier / The Parry Sound
Cuckoo's Nest / Crazy Dog
Pushing 40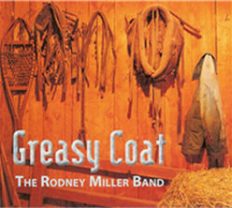 Greasy Coat
1990
On Greasy Coat, Rodney is joined by outstanding West Coast musicians to continue in the groundbreaking vein of Airplang and Airplang 2. It represents the meeting of old and new contra dance music, of urban and rural styles and of traditional and modern instrumentation.
Track list
Liza Rose / Stepping On Worms/ Wild Ginger
Bourree Des Moutons
Hare In The Hat / Molly's Hop
Greasy Coat
Susi's Waltz
American Polka
Reunion Jig / Pete Da Mill / Pinch Of Snuff
Pow Wow/ Rockabilly Reel
Bad Hair
Bagpipe Ditty / Christmas Day In The Morning/ Young Widow
Dragonfly Waltz
Chorus Jig / Chorus Jive
Lullaby For Liza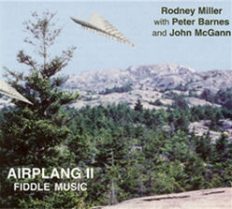 Airplang II
1987
The sequel! With Kate Barnes and John McGann. Recorded in anticipation of an appearance at the 1987 Shetland Folk Festival. The festival was a total blast (and so is the album).
Track list
The Cliffs Of Moher / Gold Ring / Hullican's Jig
Leather Britches / Miller's Reel
Pincushion Polka
Bluemont Waltz
The Bain's Welcome To Dublin / Mains Of Gartley / Pull Down Your Vest
Rochester Schottische / Shelbourne Reel / The Baker
Swimming In The Gutter / King's Favorite / Munster Lass
Denver Belle / Indian Killed A Woodchuck
High Level Hornpipe
Cattle In The Cane
The Irma Waltz
Tour Of Scotland
Airplang
1985
A pivotal recording in the evolution of modern contra music. Controversial, celebrated, and listened to widely, this album established Miller as one of the most influential and masterful contemporary folk fiddlers.
Track list
Sail Away Ladies / Waynesboro
Erin / Soulmate
Hangman's Reel
In Christ There Is No East Or West / Salimony Waltz
Contrazz / Old Joe
Dancing Bear
Elvira / Asher
Nancy's Waltz / Dark Island
Fair Jenny
Cotton-Eyed Joe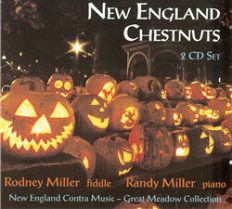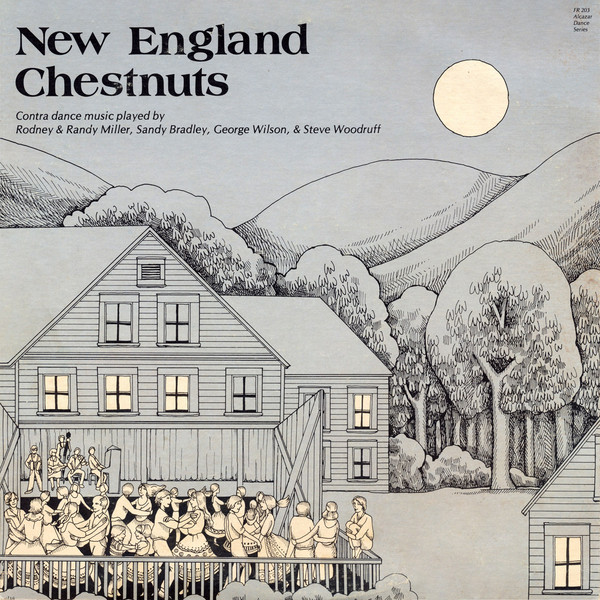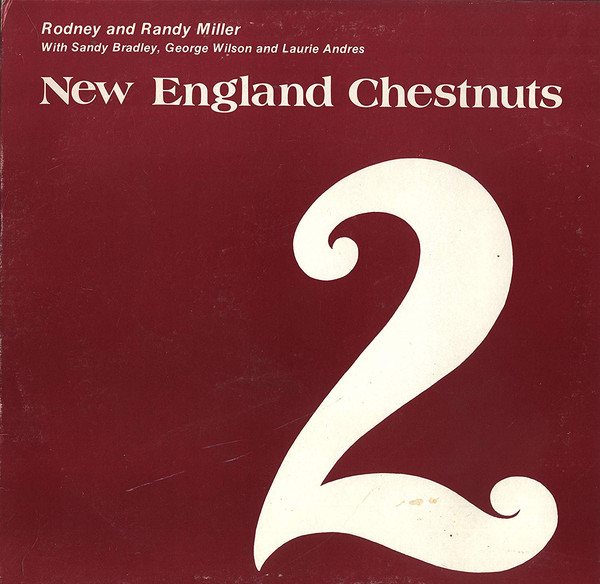 New England Chestnuts
1980, 1981

A two-album set originally released on vinyl New England Chestnuts 1 & 2 have been called "the best ever" recordings of traditional contra dance music by dancers, listeners and music scholars alike.
Rodney and brother Randy are joined by Sandy Bradley (guitar), George Wilson (bass & fiddle), Steve Woodruff (button accordion), Laurie Andres (piano accordion).
Now available as a 2-CD set.
Track list
Lady Walpole's Reel / Batchelder's
Opera Reel
Rory O'More / Saddle The Pony
Chorus Jig
Narissa / Larry's Waltzes
Lamplighter's Hornpipe / Kildare Fancy
Portland Fancy
Hull's Victory
Chickadees / Silver & Gold / Sarah Dell
Money Musk
Ross' Reel No. 4 / Lady Of The Lake / Forester's
Steamboat Quickstep / White Cockade / New Rigged Ship
Road To Boston / Jenny's Gone To Linton
Glise De Sherbrook / Whalen's Breakdown
Petronella / Green Mountain Petronella
O'Donal Abhu / Rocks Of Brae / Meeting Of The Waters
Maggie Brown's Favorite / Shetland Boston
The Gay Gordons / Farewell To The Glen
Fisher's Hornpipe
Heather Island / Amelia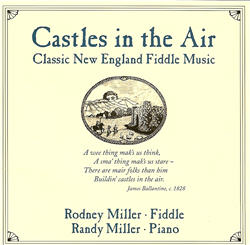 Castles in the Air ~ Classic New England Fiddle Music
1976

Fiddle and piano from Rodney Miller and Randy Miller, Castles in the Air embodies the charm and intimacy of New England: cozy hills, lakes and mountains, picturesque towns, and fiddle music to warm the soul by.
Track list
Rollstone Mountain
Rock Valley / Northern Lights / Cattle in the Crops
The Old White Cockade / Mary Douglas
Allie Crocker/ Jack Cameron
Skye Boat Song
President Garfield's Hornpipe
Little Burnt Potato / First Western Change
Come Up the Back Stairs / J.B. Milne
The White Leaf/ The Border Collie
Miss Gordon's Strathspey / Castles in the Air / Janet Beaton
The Cowboy Jig/ Canadian Jig
Green Mountain Petronella/ Nancy
Where the River Shannon Flows / Rosin the Beau
Westfork Gals / Spanish Lady